Dear Parishioners,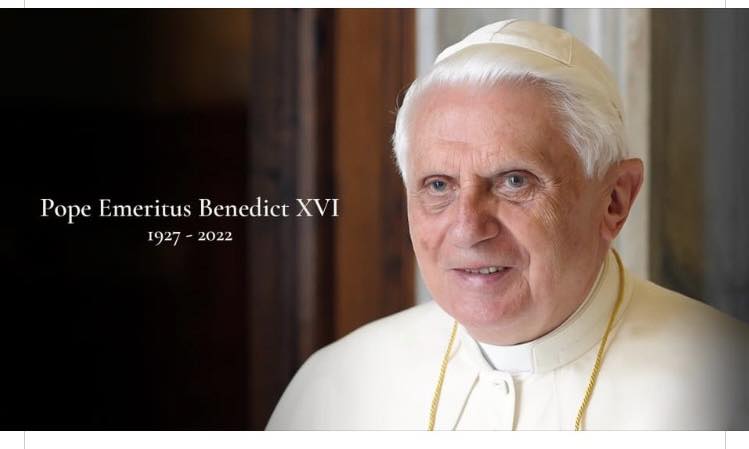 Pope Emeritus Benedict XVI was a faithful son of the Church, and he used his considerable spiritual and intellectual gifts in service of the Gospel of Jesus Christ. On New Year's Eve, Pope Francis reflected on the life of the late Pope Emeritus Benedict XVI:
"And speaking of kindness, at this moment, my thought naturally goes to dear Pope emeritus Benedict XVI who left us this morning. We are moved as we recall him as such a noble person, so kind. And we feel such gratitude in our hearts: gratitude to God for having given him to the Church and to the world; gratitude to him for all the good he accomplished, and above all, for his witness of faith and prayer ..." (Pope Francis, 31 December 2022, Homily for Vespers)
I invite you to pray together as a community of faith with Bishop Brian, Fr John Stork and me for Pope Benedict, asking God to complete his life in mercy and eternal joy. Requiem Mass will be celebrated by me for Pope Benedict at St Francis Xavier Cathedral, Wollongong at 7am, by Fr John Stork at St Brigid's Church, Gwynneville at 9.30am on Thursday 5th January 2023, and Bishop Brian Mascord at St Francis Xavier Cathedral at 12:10pm.
We pray with the whole Church:
"Oh God, immortal shepherd of souls, look on your people's prayers and grant that your servant Pope Benedict, who presided over your Church in charity, may, with the flock entrusted to his care, receive from your mercy the reward of a faithful steward." (Roman Missal, Masses for the Dead: Mass for a Pope, C)
Requiescat in pace, Pope Emeritus Benedict XVI
Fr Bernard Gordon VG